Contact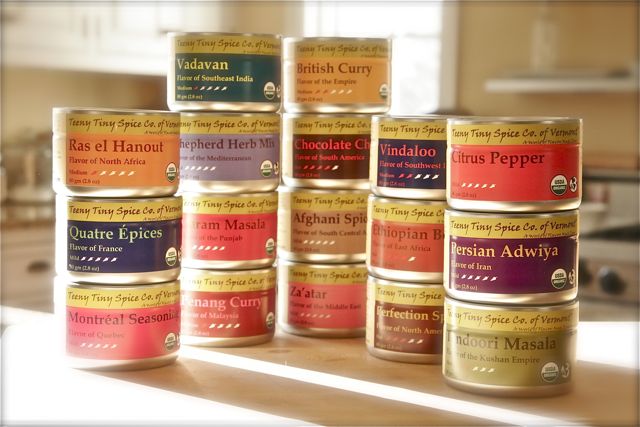 Please feel free to contact us with any questions. The surest way to get a quick response is by using e-mail.

info@teenytinyspice.com

We do not have a storefront in Shelburne....sorry to those who want to visit us ;-(

Business Office:
Teeny Tiny Spice Company of Vermont, LLC
P.O. Box 1113
Shelburne, Vermont 05482
Phone: 802-598-6800
Fax: 603-768-4247
Freshness
Our spice blends have a very long shelf life. We freshly grind and then package each batch to seal in the freshness. Air and sunlight are the two main elements that affect the shelf life of spices. For this reason, we package our spices in tins that seal out both air and sunlight. We have time-tested our blends and have found that even after one year, they still have rich flavor. You would notice a slight difference between a one year old tin and a freshly ground tin if you held them next to each other, of course, as flavor and color will diminish with time.
In our home, each tin provides enough spice for 4 to 12 main courses for our family. If you have not used a spice blend four or more times in six months, we figure that it is time for you to clear it out of your kitchen and try something different.
Shipping
We attempt to ship orders within a day of their receipt. From time to time there may be delays in processing orders, and we will let you know if that is the case for your order.
Returns & Exchanges
We do not accept returns or exchanges on our herb and spice mixtures. If you have a concern regarding your order, please contact us.
Privacy
We respect your privacy and do not want to fill your inbox with spam. We expect our products to speak for themselves and hope that you will be a return customer and refer your friends of your own accord.

We will not sell or provide your personal information to third parties other than what is needed to complete your transactions with us.
Allergens
Our products contain only the ingredients listed on their labels. That said, we do not control these ingredients from "farm-to-table", so we cannot guarantee that they have not been handled in nut-free or any other allergen-free facility.
Photos on our webiste by
Stephen Saint-Onge
Katie Webster
Ed Pomicter