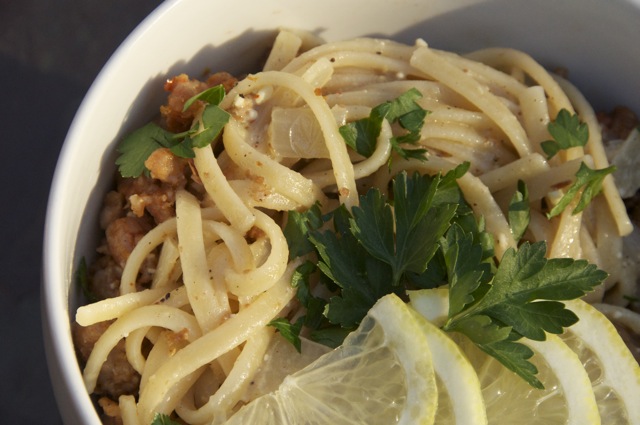 1 Lb Spaghetti
¼ C Extra virgin olive oil
1 Shallot
¼ C Heavy cream
2 tsp Lemon zest
¼ C Lemon juice
1 Oz Finely grated parmesan cheese
2 Tbs Fresh basil leaves, shredded
2 Tbs Teeny Tiny Spice Co.® of Vermont Persian Adwiya
Salt & pepper
In a large pot, bring 4 quarts of water to a boil.

Add 1 Tbs salt & pasta.


Cook, stirring frequently, until al dente.

Reserve 1¾ C of the cooking water, drain the pasta in a colander and set aside.

Heat 1 Tbs oil in the now empty pot.


Add shallot and ½ tsp salt. Cook until shallot is softened, about 2 min.

Whisk 1½ C reserved pasta water & cream into pot; bring to a simmer & cook for 2 min.

Remove the pot from heat, add in pasta & stir until coated.

Stir in the remaining 3 Tbs of oil, lemon zest, lemon juice, cheese, Persian Adwiya & ½ tsp pepper.
Cover & let the pasta stand 2 minutes, tossing frequently.


Stir in the basil.

Adjust seasoning if needed & sprinkle with cheese if desired.