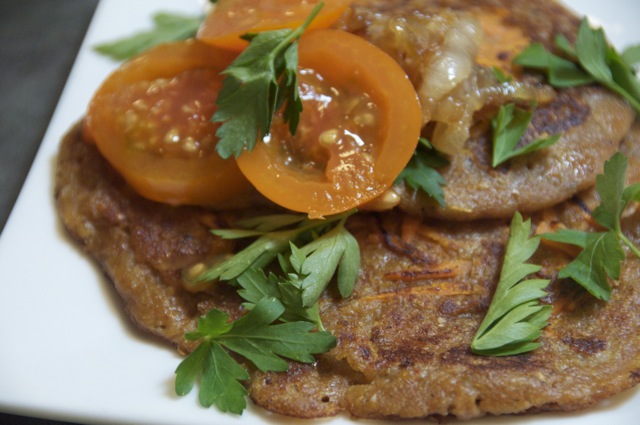 Savory pancakes are common in many cultures. They are another simple way to add versatility to an otherwise plain meal. We recently bought a hand-crank grain mill, so we ground our own wheat berries to make the flour. You obviously do not have to take this step, but it added a bit more fun to the process for us! We used Vindaloo spice in this recipe, but any spice blend of your choice will do. For a sweet pancake, use Garam Masala or Quatre Épices and some fresh fruit or maple syrup.

2 C Whole wheat flour
3 Tbs Yogurt, beaten
2 Med Red onions, fine dice
2 Tbs Teeny Tiny Spice Co. of Vermont® Vindaloo
1 Carrot, peeled and shredded
1 Handful Cilantro, finely chopped
Warm water
Salt to taste
2 Tbs Oil, butter or ghee
In a bowl, add whole wheat flour, salt, Vindaloo spice blend, beaten yogurt and enough warm water that it reaches pancake batter consistency, which is slightly runny.

Heat the 2 Tbs oil in a skillet and add the onions.

Sauté the onions until browned. Add onions to pancake batter and let sit for 15 minutes.

Grease a hot pancake griddle or heavy bottomed skillet.

Pour a ladle-full of batter on the griddle and spread it around. Sprinkle the carrot and cilantro on just before flipping.

Brown on both sides and remove from griddle.

Serve hot with yogurt and caramelized onions, fresh tomato or some chutney.